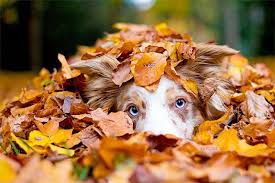 Autumn is in the air! This change in season is marked by falling leaves, dropping temperatures, and less overall daylight; all of which pose their own threats to our animal friends. But don't worry, we've got you covered in this month's blog.
Leaves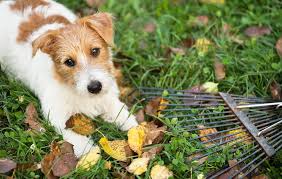 Although you may think you can put the lawn mower away, make sure to keep the rake out! Piles of falling leaves and other yard litter are a breeding ground for ticks, especially with the cold weather. They'll hunker down and stay for months, if given the chance! Piles of yard debris are also top-notch hiding spots for many other lurking dangers, such as sharp objects and slithery surprises. Jumping in leaf piles is fun and definitely a fall favorite, but immediately following playtime (should) come clean up.
Ticks and Other Creepy Crawlies
Speaking of these small but deadly creatures, remember to keep your tick prevention regular even as cold weather approaches. In addition to ticks, there are other creepy crawlies that come out to play in the house. The use of rodenticides and pesticides can be harmful to your pets, so be careful when/if you must use any. Also, do your research and find alternatives that are pet-safe, whenever possible.
Mushrooms
If you're still enjoying the great outdoors (even just for a quick potty loop), you may have noticed the mushrooms that have been popping up. Although 99% of these fungi pose no issue, it's that sneaky 1% you want to avoid as things can turn deadly. Unfortunately, there's no easy way to differentiate between the two, so a good rule of thumb is to avoid them all!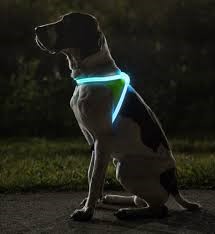 Cold Temperatures and Dark Skies
As temperatures drop and the moon can be seen by 6pm, it's a good time to pull out (or purchase) a coat/sweater and some reflective gear for your dog or kitty. There are lots of places to make these types of purchases, but one great place to check out is The Dog Park in Old Town, Alexandria. Dogs and cats are welcome in the store; just don't forget the mask!
Pet ID Tags & Microchipping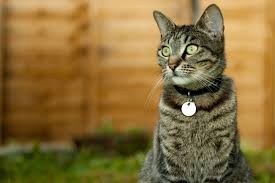 Our final reminder is to take this time to update your pet's ID tags and microchips. Why is this important? Because these two bring your pet home, in the frightful event that they get away. The more commonly accepted practice, microchipping, is known to save lives. Once installed, microchips are a forever thing. If your pet gets lost and brought to an animal shelter (like AWLA), the staff will scan for a microchip. However, if you don't keep the registration active and contact information updated, a microchip is basically a waste.
In addition to microchipping, the most basic and IMPORTANT thing you can do for your pet is to get an ID tag. This doesn't have to be anything fancier than your contact information written in Sharpie on a collar. Regardless of the method you choose, doing this simple step is just as crucial as microchipping. Make sure your pet's name and at least a contact number are provided on the tag as this will allow a friendly neighbor to quickly and easily reunite you and your pet full of wanderlust.
It's obvious by the topics we focus on for October, Pet Wellness and Animal Safety/Protection, that this is a month to stop and consider the overall wellbeing of all animals. This doesn't include solely our household pets and the animal friends we know. As lovers of animals (and decent humans), we should be continually looking after all the pets in our communities. If you see something potentially harmful, say and/or do something. Always advocate for animal safety best practices, especially in places like your local animal shelters and zoo.
As we watch November come hastily into view and embrace this season full of football, pumpkins, and flannel, we owe it to our fur babies to run a litmus test of how safe our animal care practices are. A safe home and healthy lifestyle are the greatest gifts of all!
Disclaimer: The advice found in this blog is purely informational. ALWAYS consult your vet when it comes to your pet's overall health and well-being.
Written and contributed by: Keesha Lockette, Pet Sitter