Last month, we introduced you to some of our favorite places to frequent, especially now, as a quick escape from the impending doom of being in our homes. We might be home for a while longer, so here are a few more!
Hopefully you've spent the last 4 weeks trying out goodies from Woofbowl and exploring Huntley Meadows! As we closed out the last blog, we realized we allowed your dog to dine, but left your human belly stuck grumbling for more. Keep reading for 4 amazing restaurants you must try as a masked-up lunch outing or even a fun date night!
Lena's Wood-Fired Pizza and Grill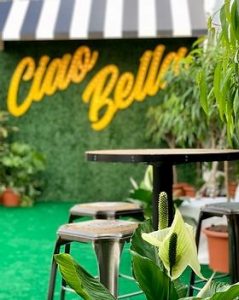 One of the best pizza shops around, Lena's has it all: great service, great food, and a pet-friendly outdoor patio. They are open to the public (following the usual guidelines) in two dining spaces: Lena's Beer Garden and Lena's Oasis. To summarize the story behind the Oasis, Lena's wanted to find a way to give back to the community, say "thank you" for over half a century of support, and create a space for peace and calm in the midst of our current chaos. The Oasis is reservation only, but it's worth planning out your escape here.
What used to be their "regular-degular" (shout out to some pop culture TV show, likely on Netflix, for the fun new vocabulary) outdoor seating has now been reclaimed "Lena's Beer Garden". Relax under the lights with your pup and your favorite Port City concoction (another local favorite we love that is super dog-friendly)! No need to make a reservation; spots are first-come, first-served. PLEASE NOTE the special operating hours for Lena's Beer Garden on their website.
The Dairy Godmother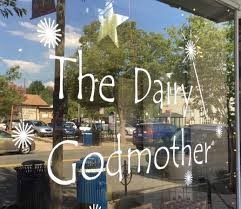 If you have never stepped foot in this darling ice cream parlor, you MUST go now (unless of course you're reading this outside of their business hours, in which case, promise me you'll have frozen custard for lunch tomorrow). The Dairy Godmother is a magical little shop that serves Wisconsin-style frozen custard and sorbet on Del Ray's mouth-watering Mount Vernon Ave.  Hungry yet?
Prior to COVID, The Dairy Godmother would almost always have a line of fans (of the 2 and 4-legged variety) waiting to indulge in a cold treat. As much as they love doggos, safety has banned our furry friends from being able to come inside. But you can tie your pup to the blue bench or leave them with a friend while you grab your goodies.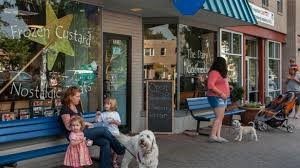 The pup options are banana and pumpkin flavored "Puppy Pops" or a baked Squirrel! Disclaimer: this is not a baked squirrel, rather a baked dog treat shaped like one.
Aside from the sometimes long wait times, The Dairy Godmother is a must visit, both on the hot dog days of summer and even when the nights turn a little chilly.
Head over to their website and check out the flavor of the day!
Lost Dog Cafe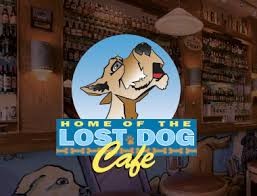 What began as a small, Arlington storefront serving customers and doubling as a pet rescue is now 5 storefronts across Northern Virginia and a foundation dedicated to matching rescues with their fur-ever home. What more is there to love, really?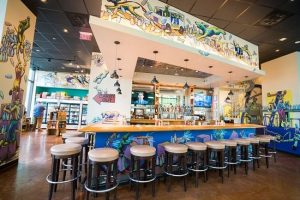 For all of the indecisive foodies out there, the Lost Dog Café menu has every kind of sandwich you could imagine. Not in the mood for a sandwich? They've got gourmet pizzas! Or maybe you want to try a pasta dish or just go crazy and order 3 sides of waffle fries. No choice is a bad one at Lost Dog – except maybe choosing not to go!
All Lost Dog locations are open for dine-in and operating under modified hours; and, of course, following COVID precautions. Hop on over to their website now!
Vola's Dockside Grill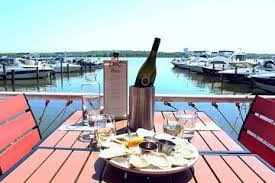 Like the rest of the fine establishments listed here, Vola's is as pet-friendly as they come and never a bad idea as a spontaneous dining option. Located on Old Town's Waterfront, Vola's patio seating is definitely our preference on a beautiful day. There are almost always 4-legged diners mixed in the crowd, complete with their own water bowl and maybe even a snack off the doggy menu!
A hot brunch spot, Vola's menu features great options and the service has always been fantastic! Vola's patio and indoor seating is definitely open to the masked masses, but as always, it's on a first-come, first-serve basis and (because of COVID) seats are limited!
This blog highlights Vola's not just for its amazing location (you can't beat the views), but also because of its namesake. The name Vola Lawson should ring a bell (hint: think animal shelter); if the AWLA came to mind, you're correct! It should also ring a bell because Vola Lawson was Alexandria's first female City Manager and, from my research, extremely well-loved by the community.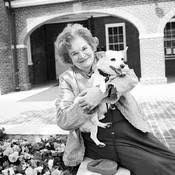 I mean the lady got an animal shelter AND restaurant named after her, so I don't know about you, but that speaks volumes in my book! Check out Vola's 'About' section here to read a brief bio on the life and legacy of this phenomenal woman.
For now, enjoy this adorable photo of Ms Lawson and her Jack Russell Terrier, aptly named Jack.
As always seems to be the case, there are so many others that deserve to be on this list as much as the restaurants we featured. NoVA is swimming with great dining and I'd venture to say that most places are pet-friendly, in one way or another! Two of the restaurants on this list, Lena's and Vola's, are actually Alexandria Restaurant Partners. Other partners include Theismann's and Palette 22 – so there are 2 bonus restaurants for my true foodies out there!
Hopefully we've helped you either find a new favorite brunch spot or "go to" for when COVID goes away and out-of-towners are back to play! Or perhaps you've been in the area and we've re-ignited an old flame that's long burnt out. Whatever your situation, leave us a comment and tell us some of your favorite pet-friendly spots, for dining and everything else too! And don't forget to take pictures of your outing and tag us (@passionatelypets on all socials)!
Disclaimer: The advice found in this blog is purely informational. ALWAYS consult your vet when it comes to your pet's overall health and well being.
Written and contributed by: Keesha Lockette, Pet Sitter