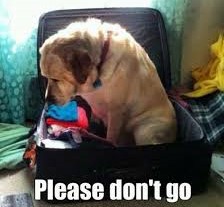 It is hard enough to leave your pet behind when you need to go out of town; you don't want to worry about their care while you are done too. It is very important to make proper arrangements for your pet while you are away from home. There are several options available to you as the pet owner. You could hire a professional pet sitter to visit your pet, board your pet at a kennel or use a Bed & Biscuit service where your pet can stay in someone else's home. There is a lot to consider when making the decision of which option is the best fit for you and your pet.
Kennels/Pet Boarding Facilities
Boarding facilities are a very common solution pet parents choose when they are traveling because they charge by the day, making them an affordable choice.  But they often lack individualized attention and large open spaces.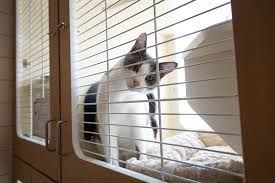 This option can expose your pet to possible health risks.  Anxiety and stress occur often when pets, especially cats, are left in a foreign environment without their loved ones.  They may lose their appetite, become depressed or start stress-related behaviors like paw licking. These problems can worsen in a facility that isn't staffed 24 hours a day, leaving the pets alone in an unfamiliar place overnight.  Boarding also poses the risk of diseases. Giardiasis, coccidiosis, distemper, and kennel cough are all contagious diseases that your pet is more likely to contract in a facility where fresh air circulation is limited and contact with a variety of other pets is expected.
Boarding facilities usually provide potty breaks and feed your pet on their own schedule. Your pet's daily routine is likely to be disrupted due to this factor.  Therefore, boarding is not ideal for puppies, senior pets or cats who all prefer and benefit from structure.
Plus, limited pick up and drop off times aren't always conducive to your travel plans.  Based on your departure and arrival times, you may need to board your pet an extra day or two.  This can be inconvenient and add to your total cost as well.
While this is an option that works well for some, we recommend looking into a more personalized caretaker for your pet. If you do choose to go this route, make sure to pay a visit to any facility you are considering to see how they run their day to day operations, where your pet will be kept and what level of care you can expect. Also, ask them about their emergency protocols in case anything should happen while you are away.
Bed & Biscuit/Home Boarding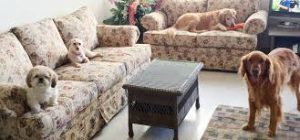 In the past few years, hobbyists have been making extra money by bringing pets into their homes to stay.  Pet parents like this option because the environment can be more comfortable than a kennel and the number of other pets is limited so more personalized attention can be given.  However, since this is a stranger's home, it is very important to do your due diligence to ensure you are leaving your pet with a trusted, capable caregiver in a safe environment.
As with a kennel, you want to meet the caregiver and tour their home in advance.  Ask them for proof of insurance, what their normal schedule is like, who else lives in the home and whether they have pets of their own or will be accepting others while your pet is present. Ask to see where your pet will be kept when no one is home and where your pet will sleep. If they have outdoor space, be sure to check that their fences and gates are secure and that the yard is picked up of all yard waste.  Make sure they have a back up plan in case something happens to them causing them not to be able to return home for an extended period of time.
Pet Sitting & Overnights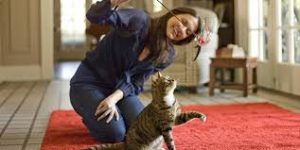 Pet sitting involves a pet care professional coming to the pet's home to care for them at their own schedule in their own environment.  This allows the pet to remain in the place where they are the most comfortable with familiar toys, beds and smells reducing stress.  Plus, pet sitters work with the schedule your pet is accustomed to: visiting when your pet normally eats, plays, gets medication, and/or goes for a walk. They will provide exercise, mental stimulation and the much needed one on one attention your pet deserves. Each visit can be adapted to your pet's specific needs and your pet has little to no risk of being exposed to bacteria that cause illnesses such as Kennel Cough.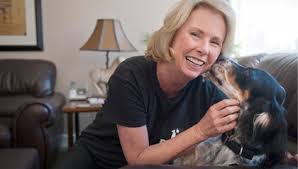 Pet sitting is a great option for multiple pet households, as they get to keep the companionship of their siblings without the cost increasing substantially.  There are no pick up and drop of times and visits are scheduled at your convenience, so there isn't much worry if you have an very early or late departure or arrival.  Pet sitting also adds the comfort of knowing your home is being looked after while you are away.  Someone is coming and going on regular intervals, alternating lights, watering your plants and collecting your mail and newspapers.  Someone can even spend the night if you prefer.
As with any option, you need to do your research to make sure the pet care company you choose has a reputation for providing reliable, quality service.  Read their online reviews, ask for proof of insurance, make sure they perform background checks on their staff and review their emergency procedures. Ask to meet the person who will be doing your visits and make sure you and your pet approve before you go away.
Although kennels and boarding may be cheaper options, there is nothing better than hiring a professional pet sitter to come into your home to ensure your pet gets proper care as well as the love and attention they deserve all in the comfort of their own home. Passionately Pets offers Pet Sitting and Overnight Stays to meet your pet's needs while you are away at a competitive price.
To get started with Passionately Pets, call us today at 571-438-2323 or visit our website www.passionatelypets.com to schedule your consultation.
Passionately Pets has been a trusted pet care provider in Northern Virginia since 2007.  We proudly provide dog walking, pet sitting and overnight services for dogs, cats and other companion animals in Arlington, Alexandria, Annandale and Falls Church.  Visit our website, www.passionatelypets.com, to request a consultation or more information.  For more pet filled content, follow us on Instagram and like us on Facebook @passionatelypets.