8 of the Best Local Trails to Walk with Your Dog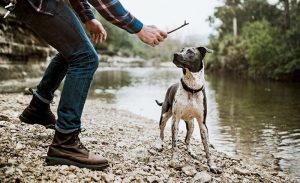 As Spring rolls in and we welcome the warmer weather,
it's the perfect time to plan some new outdoor adventures with your dog.
Here are our favorite local spots to delve into nature with your pup:
Seneca Regional Park
101 Seneca Road
Great Falls, VA 22066
Over 8 miles of trails allowing you to select the perfect distance
Bluffs & hollows deliver a little elevation change and the bottom lands along the Potomac add an additional environmental factor
Try the Potomac Heritage Trail or the Seneca Connector Trail
Scott's Run Nature Preserve
7400 Georgetown Pike
McLean, VA 22102
Over 300 acres of trails leading to scenic spots like Scott's Run Waterfall and overlooks of the Potomac River
Variety of trail types, including shaded wooded areas and more intense rocky climbs
Some trails cover rocky bluffs that are unsafe for dogs
Bull Run Occoquan Trail
10875 Hampton Road
Fairfax Station, VA 22039
3.4 mile out and back trail turns around at Centerville Road access
Dogs can explore the forest and enjoy a dip along Cub Run and Bull Run
Plenty of wildlife about so best to keep dogs on leash
Best to avoid the easternmost 6 miles of the Occoquan Trail with dogs as it is open to mountain bikes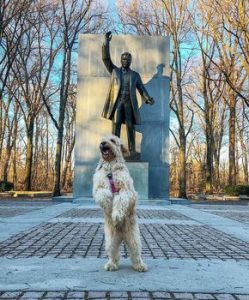 Theodore Roosevelt Island
Washington, D.C.
Two and a half miles of low intensity trails
Most of the trails are wooded, providing shade during the warmer months
No fees
If your dog is adventurous and water-loving, canoeing and kayaking are available
Washington And Old Dominion Trail
21293 Smiths Switch Road
Ashburn, VA 20147
Sixty-five miles of trails
Trails are mostly paved or gravel, making them easier for beginners
This former railroad trail is open year-round
Great Falls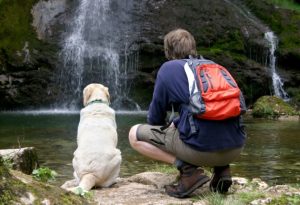 9200 Old Dominion Drive
McLean, VA 22102
Fifteen miles of trails
Variety of trails, from the Swamp Trail through lowland forest to the more challenging Billy Goat Trail perfect for high-energy dogs
Most of the trails are wider, multi-use paths, so if your dog is uncomfortable around bikes and horses, consider a different trail
Rock Creek Park
5200 Glover Road N.W.
Washington, DC 20015
Thirty-two miles of trails
Both rustic and paved paths
During the weekend, parts of Beach Drive are closed to cars so you can feel free to walk your dog down the road
There is a horse center in the middle of the park, and deer are common, so the trails are best suited for dogs who are already familiar with these animals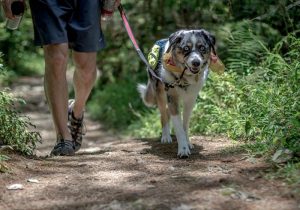 Shenandoah National Park
3655 U.S. Highway 211 East
Luray, VA 22835
Nearly 500 miles of dog-friendly trails
One of the few national parks that allows dogs on their trails
Keep dogs leashed, as bear sightings are common
After your hike, share your experience in the Comments below. We'd love to hear of your adventures!
Passionately Pets has been a trusted pet care provider in Northern Virginia since 2007.  We proudly provide dog walking, pet sitting and overnight services for dogs, cats and other companion animals in Arlington, Alexandria, Annandale and Falls Church.  Visit our website, www.passionatelypets.com, to request a consultation or more information.  For more pet filled content, follow us on Instagram and like us on Facebook @passionatelypets.
To get started with Passionately Pets, call us today at 571-438-2323 or visit our website www.passionatelypets.com to schedule your consultation.