The relationship between pets and their parents is stronger than ever before and it is now more common for pet parents to bring their furry best friend along to share in their everyday experiences outside of the home than it was in the past. As a result, many pet parents now bring their pets along to pet friendly restaurants, whether they are traveling and searching for a place to eat or simply want a nice night away from home. Although dogs are not allowed inside restaurants due to health code laws, many restaurants have pet friendly outdoor seating and welcome four-legged guests to accompany their pet parents. However, there are important things to bear in mind when preparing to bring your pooch to your favorite eatery to ensure happy pets and good etiquette.
Know the restaurant's pet policy: This may seem like a given, but there is nothing worse than arriving at a restaurant with your pup, stomach grumbling, and then being asked to leave. Make sure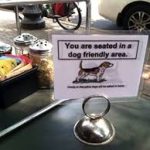 you do your research to make sure that the restaurant is pet friendly. It is always a good idea to call the restaurant ahead of time to ensure there is seating available for you and your dog.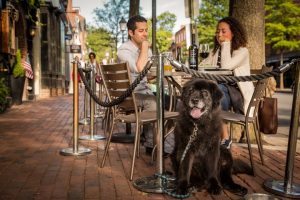 Socialize your dog: Socializing your dog is important for you to understand how your pup reacts to strangers, loud noises, other animals, and other situations before you bring them to a restaurant. If your pup does not react well to these situations, it is best to leave them at home.
Ease into it: Start small with your pooch. Take her to a coffee house or bar first during a non-peak day and time so it is not as busy, and for a shorter visit.  If that goes well, you can try bringing her along at a busier time of day.
Exercise your pup: Exercising your four-legged friend before you leave for the restaurant will release your pet's pent up energy so they will be calmer in a social setting.
Bring another person: Having another person accompany you will ensure that the trip runs smoothly. This person will be able to go inside the restaurant if necessary while you wait with your furry friend or will be able to watch your pup if you need to use the restroom or step out for a few minutes.
Stick to one dog per pet parent: Do not bring more dogs than humans to a restaurant. Although a restaurant may be pet friendly, this does not mean it is a dog park. Be respectful.
Bring a portable water bowl: Some restaurants may provide special dog bowls, but do not expect it. It is in violation of health codes for pets to use dishware used by the restaurant. So, it's a good idea to bring along a portable water bowl. Also make sure that you do not allow your pet to lick your plate or silverware.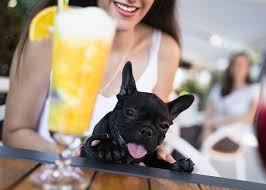 Have pets relieve themselves before you get to the restaurant. It is bad form for your pup to do his business on the establishment's property near others consuming food, even though they are technically outdoors.

Practice good table manners: This goes for you and your pup. Make sure your pet is calm and do not allow your pooch to sit in your lap or at another chair at the table. Your dog should be sitting or lying down next to your chair at all times. Do not allow your pet to wander and disturb other guests. Also, remember that your pet should be on a leash at all times.
Be courteous of other patrons: Remember to take your pet out of the restaurant if they are being loud or being unruly. People who are not used to being around dogs may find noisy and boisterous pups more of a distraction than you do.
  What's your favorite dog friendly restaurant?  We'd love to know so comment below!
To get started with Passionately Pets, call us today at 571-438-2323 or visit our website www.passionatelypets.com to schedule your consultation.
Passionately Pets has been a trusted pet care provider in Northern Virginia since 2007.  We proudly provide dog walking, pet sitting and overnight services for dogs, cats and other companion animals in Arlington, Alexandria, Annandale and Falls Church.  Visit our website, www.passionatelypets.com, to request a consultation or more information.  For more pet filled content, follow us on Instagram and like us on Facebook @passionatelypets.