We've compiled a list of some of our favorite local spots for you to try out.
We're talking dining, adventure, and shelter lovin'!
The quarantine blues are hitting us all pretty hard making it easy to become overwhelmed. But then again, the stress is a bit easier to manage if you have a furry friend in the house. In fact, if you'll allow me this moment to indulge in science, Science Daily summarized a study done by some fine folks at Washington State University that proves this point. The researchers found that when humans interacted with animals, that interaction helped reduce their cortisol (or, stress) levels. You may have heard of cortisol (no, it's not the stuff you put on boo boos).  It's the stress hormone that floods our system and tells us that we're stressed (cue the nail biting and/or fridge opening). A simple Google search will lead you down a rabbit hole of published studies all coming to the same conclusion I've personally known to be true: hanging out with animals is the best thing you can do! (Note: this is not verbatim what the studies say, but when you boil down the science-talk, it's basically what they're getting at.)
Since spending time with pets is quite possibly the best thing you could be doing, we're here to give you some ideas of local, pet-friendly places that are waiting to give you and your furry friends a great time. All of the places listed are currently following the proper guidelines as it relates to COVID-19, so you can be certain of your safety when visiting. These three also happen to be favorites of us here at Passionately Pets, so they're well-vetted. All you have to do is get in the car and go! Don't forget your face mask!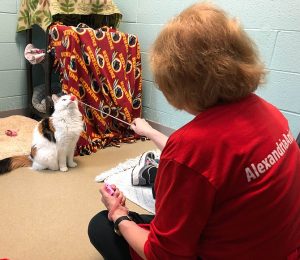 Animal Welfare League of Alexandria (AWLA)
The AWLA is a mostly volunteer-run animal shelter located on Eisenhower Ave, next to the water park! To clear up any confusion, you may have seen this shelter also advertised as the Vola Lawson Animal Shelter. As a regular volunteer, I can say the staff are some of the most dedicated and loyal pet lovers I've ever encountered. They're knowledgeable, friendly, and advocate for their fur babies. They take the time to sit with potential adopters to not only educate them on general animal careut also walk them through the history and breed-specific eccentricities that accompany their potential new housemate. They take in animals of every kind in every way, from owner surrender to strays brought in by loving neighbors.
Until Phase 3, the AWLA was only conducting virtual adoptions. Now they are allowing for in-shelter adoptions by appointment only and following COVID guidelines, such as wearing a mask and social distancing. If you're not in the market for a pet, you can still interact with the animals in the shelter as a volunteer or even a foster parent! Either way, it's a win-win because you're out of the house and you're contributing pawsitively to a great cause in the community. Interested in learning more? Check out their website here!
Especially now, all of us pet owners are blessed. If you're reading this and you are not included in the previous sentiment, it may be time to check out a local shelter. Your best friend might be there right now! Why are you still reading this? Go, go, go!
WoofBowl
This one-of-a-kind food truck lives up to their slogan: "Fast Food Doggie Style". Whether you need a reason to go outside or just feel like spoiling Fido, the Woofbowl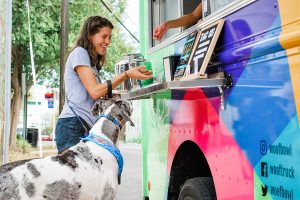 truck is always worth a stop! The staff are the loveliest, friendliest people and every time I've seen their truck, there are four-legged friends around waiting for their adorable, healthy, tasty treats. This small business is 1) a great business idea – food truck for dogs?! and 2) a fan favorite in the DMV. In addition to their "pup up" food truck, Woofbowl has an online shop with merchandise that can be shipped right to your door. When the days of kickbacks and big celebrations re-emerge, you can even call on Woofbowl to cater. Above all, they're black-owned! There are so many beautiful reasons to support!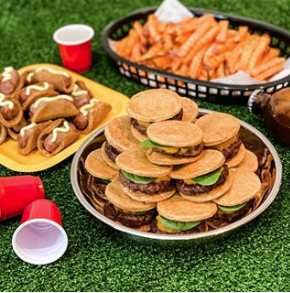 Still not sold? Check out Woofbowl's 'About Me' page and learn of the amazing story of how this great business came to be. Then head over to the 'Our Treats' page, which explains the difference between Woofbowl treats and those Scooby snacks you've got sitting in the pantry. Another fun fact: you can find them in Atlanta, NYC, and LA as well – but for right now, just support in the DMV.
Now that I've got you on board, check out their Pup-Up Schedule to plan your visit! (another plug: don't forget your mask!) They are currently offering a few different ordering methods. You can either order in person at the truck, online for pickup at the truck, or online for delivery.
So far, we've given the shelter babies love and perhaps taken home a new friend! Then we've spoiled our doggos rotten with delectable and nutritious treats. The only thing left to do is get outside for some fresh air and to walk off that doggy beer gut! (Note: Woofbowl has not come up with a recipe for actual beer to give to dogs, it's just chicken stock!)
Huntley Meadows
In addition to dog parks, many of our favorite trails were closed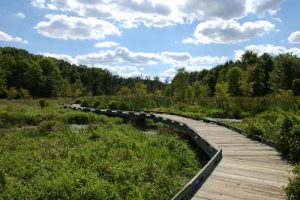 in earlier stages of the pandemic. One such favorite is Huntley Meadows, located off of South Kings Highway in Alexandria. It also happens to be the largest park operated by Fairfax County. Likely due to its skinnier pathways, Huntley Meadows was closed down but has since reopened to the public! Though not always the easiest to social distance, there is plenty of off-roading that can be done to get you and your dog away from the crowd. An often-popular destination, Huntley Meadows does have its quiet times and if you can time it right, you may even get the place to yourself.
Huntley Meadows is not in the Passionately Pets service area, but it's such a great spot that it had to make the favorites list. This park boasts a peaceful getaway with beautiful views and mile-long trails that are perfect for a stroll. Remember to keep in mind what we talked about back in April and May (if you have no clue what I'm talking about, you need to catch up)! These temperatures have been brutal, so this is definitely a good time to switch up your routine and head out during either the early morning or late evening. Huntley Meadows is open from dawn to dusk, so there are no excuses! And don't forget water – both for you and your pup.
Huntley also hosts community events for all ages. These events are still happening; however, social distancing guidelines are in effect and face masks are strongly encouraged. Check out their website to learn more!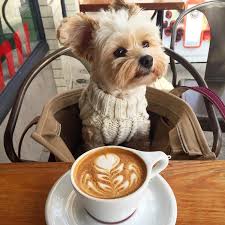 We didn't even get into the dog-friendly restaurants and shops that exist right here in NoVA! There are so many places and, for the most part, they're all fabulous. I guess pet-friendly folks can't help but be lovely humans! We hope you check out some of our featured favorites and let us know what you think! Stay tuned for part two…
Please know that there are so many more favorites of ours and we'd love to hear from you, our readers, regarding any suggestions and reviews you want most! These blogs are for you, and you alone, so help us help you!
Written and contributed by: Keesha Lockette, Pet Sitter